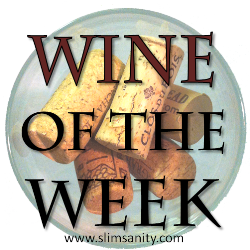 Guys… it's time for Wine of the Week! This week I was choosing between 2 wines, a Chardonnay that I tried earlier on Tuesday and a Pino Noir I drank this evening. I went with…
The Pino Noir. My Dad's company, that I also work for, does a lot of printing and layout work for the Tondre Winery. They just so happen to pay us partially in cases wine so I decided to pop one of the bottles open and give it a try.
If you click over to their site all the photos are ones my Dad took.
The Tondre Pino Noir was the 2006 vintage. This is what their website says about it:
Before I started trying wines I really couldn't handle the flavor of Pino Noirs. They tasted really acidic to me. But the more I taste the more I like. This one is really good. I enjoyed a glass before dinner.
I went back for seconds once we were done with dinner.
Max likes this vintage too. It's their second best, after the 2005 of course.
DINNER
My Grandma had us all over for baked Salmon with roasted potatoes and green beans.
Everything was wonderful. My Mom did most of the cooking. She even took my suggestion and made this recipe from Real Simple.com .
It's montage time!
I skipped the garlicy-onion bread and had double potatoes.
And for dessert we all enjoyed some fresh plums Max brought us from his work.
These were the messiest, most drippiest plums in the history of the civilized world and it's a good thing the Queen of England was not invited to dinner because she would not have been impressed.
Well, I'm signing off for tonight. I'll see y'all tomorrow.